Donor Testimonials
The Cleveland Museum of Art: Love at First Sight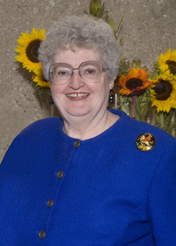 Saundra Stemen fell in love with the Cleveland Museum of Art almost at first sight: she happened upon the museum while in town visiting Case Western Reserve University in 1970. She remembers the visit because it was the first time she saw one of her favorites in the collection for the first time, Picasso's La Vie.
"There are two reasons we decided to move to Cleveland," said the retired art and art history teacher from Lakewood. "One was the Cleveland Museum of Art and the other was the Cleveland Orchestra."
Stemen, 71, visited the museum with her students at least six times a year as a part of the curriculum of her Advanced Placement art history class at Lakewood High School. When she retired, she was invited to work in the museum's Education Department and served there for 10 years.
"It was the greatest job in the world," Stemen said. "I have a special love for prints and drawings within the collection.I think it's because I relate to them so easily as an art teacher. They are so intimate, personal, and direct."
Stemen decided to make the museum an important part of her charitable giving because she was inspired by our founders.
"We are beneficiaries of their foresight," she said. "I am a teacher. I have a modest income. I am not able to provide funding to add an additional wing, but I do what I can. We are the Cleveland Museum of Art; we are one of the best museums in the nation. I'm glad to support the museum." Stemen is a member of the Cleveland Museum of Art's Legacy Society, a group of distinguished individuals who have remembered the museum in their estate plans. She is also an annual Circles member.
Back
© Pentera, Inc. Planned giving content. All rights reserved.