Donor Testimonials
Donor of Prints Creates a Lasting Legacy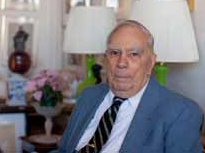 John Corwin Bonebrake (1918-2011) was a devoted print collector and a longtime supporter of the Cleveland Museum of Art.
Sadly, Mr. Bonebrake passed away on April 22, 2011, but his commitment to the museum endures. In his will, he bequeathed his large and fascinating print collection to the museum, establishing a legacy through which generations of individuals can enjoy the art that he passionately collected.
Although Mr. Bonebrake owned a few examples of original printmaking before he joined the Print Club of Cleveland in 1961, it was this group that encouraged him to collect. An architect, he initially collected images of cathedrals, castles, and other structures; however, he expanded his choices and had fun choosing whatever tickled his fancy. His collection grew to about 1,200 graphics.
Because it was Mr. Bonebrake's intention to donate the works to the Cleveland Museum of Art, he consulted Curator of Prints Jane Glaubinger, who happily reported, "Mr. Bonebrake sometimes made acquisitions to enhance strengths or fill gaps in the museum's collection." The museum is delighted that Mr. Bonebrake acquired prints by Louis Haghe, Henri Rivièra, William Nicholson, and John Pennell.
Mr. Bonebrake loved sharing his prints with visitors and hung prints in his home from floor to ceiling on every available wall, even removing closet doors to create mini-galleries.
If you have included the museum in your estate plans, please consider sharing this information with us so that we may thank you now and include you as a member of the museum's distinguished Legacy Society. John C. Bonebrake was a member, and his bequest honors a tradition of philanthropy begun by the founding fathers of the museum nearly 100 years ago.
Back
© Pentera, Inc. Planned giving content. All rights reserved.