Donor Testimonials
Planning For the Future While Reaching Into the Past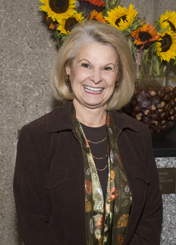 Some of Maureen Huefner's earliest memories are from visits to the Cleveland Museum of Art with her family. "I feel at home in the galleries," she shares. "The museum was a family destination that's woven into my personal memories as a child."
Fast forward several decades to find Maureen infusing the same passion for the museum in her own children. Huefner recalls that her family took advantage of nearly everything the museum had to offer: studio art classes, stroller tours through the galleries, prolonged visits to the armor court, and summertime walks around the Fine Arts Garden.
After raising her children, Maureen returned to her career at Mayfield High School as an Italian language teacher. "Art has the unique power to enrich so many other areas of learning," she says. Maureen would bring her students to the museum to view Italian masterpieces, sculptures, and objects of devotion—even creating a scavenger hunt to locate artworks—as well as to the annual Chalk Festival, which celebrates a tradition that has its origins in Italy.
Now, in her new phase of life, Maureen is a volunteer, a student, and a grandmother. "A day at the museum with my grandchildren provides joy and enrichment and creates even more memories to be cherished," she says. It was at this point in her life that Maureen began to consider ways that she could pay forward to the next generation all of the gifts the museum had given her and her family.
"I remember hearing an ad on WCLV about a way to make a gift to the museum and receive an income stream for the rest of my life through a simple charitable gift annuity," she says. "Because of the flexible levels of investing, I was able to make a gift to the museum while preserving my own future interests."
Maureen's financial and philanthropic planning was exceptional—she chose a deferred charitable gift annuity that began annuity payments to her upon her retirement, when the additional income and a higher rate of return benefited her most. Charitable gift annuities are a clever, tax-effective way to meaningfully support the museum while securing lifelong payments to you or to a loved one.
"I now feel a sense of ownership in my museum and my city, and I like the idea of visiting my investment," Maureen says.
Back
© Pentera, Inc. Planned giving content. All rights reserved.