Donor Testimonials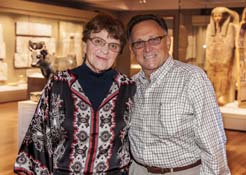 While a lot has happened over the last fifty-one years, it is not hard for Drs. Rita and Anthony Nassif to recall how they spent their first date: visiting the Cleveland Museum of Art. Rita, a native of Cleveland and a retired family practice physician, remembers visiting the museum as a child. When she was introduced to Tony, who was a general surgeon resident for her father at St. Vincent's Charity Hospital in Cleveland, they immediately found a common interest in art.
Since their first date, Rita and Tony's love of art and the museum has continued to grow. They have been members of the museum for over twenty years and with a particular fondness for sculpture Rita and Tony have a wonderful collection of sculpture decorating the interior and exterior of their Cleveland home, including a number of works by local Ohio artists. They also felt that it was important to get their six children and thirteen grandchildren involved at a young age. "Our children took art classes at the museum when they were younger," recalls Rita, "and now they are bringing our grandchildren to see the museum."
Wanting to share their passion for art with others, Rita and Tony made the decision to include the Cleveland Museum of Art in their estate plans. By creating a commitment to the museum through an irrevocable trust, they will ensure that their passion for art will be available to be shared with the public for generations to come. "We believe in art. We like that the museum is free and open to the public," shared Tony. "That is why we decided to make the gift that we did."
An irrevocable trust can be created in a variety of ways to best suit your financial planning needs and will also make a long-term impact on the future of the museum and the role it plays in our community to provide art for all forever.
Back
© Pentera, Inc. Planned giving content. All rights reserved.