Donor Testimonials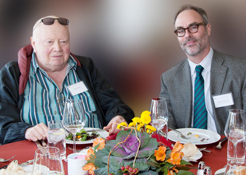 John Kelly with Curator of Greek and Roman Art Michael Bennett
John R. Kelly was inspired and encouraged to learn about art at an early age from his beloved mother, Goldie Mae Kelly. John was raised outside of Columbus and also learned from an early age the benefit of saving his hard earned money. John put himself through The Ohio State University, earning a degree in human anatomy and communicable diseases. This led to a career with the State of Ohio Health Department, eventually becoming director of immunizations and vaccinations for all of Northeast Ohio.
Upon retirement from his position at the Ohio Health Department, John was able to spend more time visiting the Cleveland Museum of Art, building upon the love of art his mother instilled in him at an early age. In the words of a friend, "They say there is beauty in everyone and everything. John's beauty was in his love and passion for art and the Cleveland Museum of Art. On the several occasions we visited the museum, he was extremely excited to see the newest improvements and view the special exhibits. With childlike exuberance, he would diligently plan and anticipate our visit. It was during these visits that I witnessed him filled with great joy."
In 2005 Mr. Kelly established the G. M. and J. R. Kelly Endowment Fund for Greek and Roman Art in honor of his mother. Nearly every month Mr. Kelly contributed to that fund and when he passed away this fund had reached nearly $270,000. Over the course of these years Mr. Kelly established a friendship with Curator of Greek and Roman Art Michael Bennett. Together they discussed Mr. Bennett's scholarly pursuits, his plans for the future of the collection, and Mr. Kelly's inquiries about the direction of the museum's future. During this time Mr. Kelly worked with his financial team and the planned giving staff of the museum about the disposition of his assets at the time of his death. In the spring last year, Mr. Kelly chose to move to a retirement community and in so doing he gifted his Middleburg Heights home to the museum. Gifting this property to the museum helped pave the way for an easy transition to Mr. Kelly's new home. He did not have to worry about selling his current property and he also received a significant tax deduction for this gift.
A wonderful side effect from this transaction was that Mr. Kelly had the opportunity to witness the benefit his gift of real estate made to the museum at the time it was sold. Mr. Kelly passed away in 2013 and as was planned, nearly his entire estate was gifted to the Cleveland Museum of Art. Now standing in tribute is the G. M. and J. R. Kelly Endowment Fund for Greek and Roman Art at over $2,000,000.
Mr. Kelly's philanthropic goal was to assist the museum in its pursuit of the purchase of the finest antiquities. The G. M. and J. R. Kelly Endowment Fund will live in perpetuity to honor both John and his mother because of sound advice from his financial team and a keen partnership with the museum.
Back
© Pentera, Inc. Planned giving content. All rights reserved.