Donor Testimonials
Robert P. Madison
How A Family History Created a Family Legacy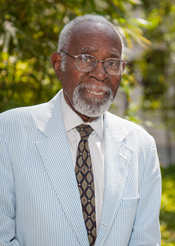 "My first exposure to the museum was as a student at Western Reserve University's School of Architecture. It was a great experience to study the museum's encyclopedic collection as a rich resource and experience all the arts from around world. The art museum is a vibrant, dynamic place in the community. It has changed over the years. At one time, the museum was elite and seemed inaccessible. Now, there is a feeling of openness and belonging. And, it is free!" Robert P. Madison
An icon of the Cleveland community, Robert P. Madison's career as an architect spans over 60 years. Not only was he the first African-American to earn an architectural degree in the State of Ohio and the first African-American graduate of the Western Reserve School of Architecture in 1948, but he also earned his master's degree under the guidance of the architectural giant Walter Gropius at the Harvard University Graduate School of Design in 1952. The following year, a Fulbright Scholarship sent him to Paris for further studies of urban design at the École des Beaux-Arts, making him the first African-American to receive such a distinguished award. His family firm, Madison & Madison, was the first minority-owned architectural firm in Cleveland and only the ninth in the United States. By 1970, the firm's title had changed to Robert P. Madison International, Inc., to appropriately reflect his work in the international arena. Madison was a consulting architect for the Rafael Viñoly project at the Cleveland Museum of Art and in 2000 he was awarded a Cleveland Arts Prize!
In August Bob along with his daughters, Jeanne and Juliette, decided to establish The Robert P. Madison Family in Memory of Leatrice B. Madison Endowment Fund to support an annual lectureship on African and African-American Art. In a recent conversation with Mr. Madison and his daughter, Juliette, they talked about the importance of establishing this endowment for the Cleveland community and the museum. However, Bob and Juliette strongly feel that the greater significance of this endowment and lectureship is that it will consistently acknowledge the impact of African Art on the development of modern art and will be a catalyst for dialogues on African-American art and its continued evolution and importance among the global arts.
The museum is honored to be part of the visionary legacy of the Robert P. Madison family. My family and I are delighted," says Madison, "to honor my wife by establishing for all time The Robert P. Madison Family in Memory of Leatrice B.Madison Endowment Fund for an annual lecture on African or African American art at the majestic Cleveland Museum of Art."
Back
© Pentera, Inc. Planned giving content. All rights reserved.