Donor Testimonials
Bradley Gillaugh
Chicagoan Makes Gift to Transformation and Receives Lifetime Income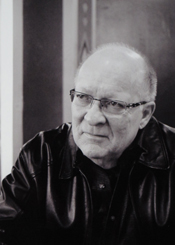 Growing up in Dayton, Ohio, Bradley Gillaughs's idea of going to the city was traveling to Cincinnati. But going to the big city meant driving north to Cleveland to visit the Cleveland Museum of Art! He recalls standing on Euclid Avenue, overlooking the lagoon, and being captivated by the pristine Beaux-Arts building. He wondered what treasures awaited him inside. What he didn't know then was that the experience would shape his entire career.
After attending Kenyon College, Bradley spent many years at the Museum of Modern Art and Leo Castelli Gallery in New York before becoming registrar of ARCO's Corporate Art Collection in Los Angeles. When ARCO merged with BP he oversaw the selling of the Collection and subsequently moved to his current home in Chicago. But his love of Cleveland and its art museum never waned. He visited the museum as often as his busy professional career allowed. During his most recent visit he experienced the newly transformed Cleveland Museum of Art. Afterwards, Bradley felt compelled to be a part of the magic.
In December Bradley called the Office of Planned Giving and discussed the possibility of giving through a charitable gift annuity designated to support Transformation: The Campaign for the Cleveland Museum of Art. In March 2014 his first annuity check was deposited into his account. In addition to taking advantage of the great value in a charitable gift annuity, he maximized the tax favorability by funding his charitable gift annuity using appreciated securities.
As a result of this gift, Bradley's name will be listed on the Transformation donor wall, which recognizes all donors of $10,000 or more for their valuable contribution to the campaign. Bradley is proud to support the CMA in this meaningful way and "recommends the charitable gift annuity as an ideal vehicle to provide support to a great museum as well as receive a guaranteed income stream with a very nice rate of return for the rest of your life."
For more information about receiving an individualized charitable gift annuity illustration, please contact Diane Strachan, Director of Development, CFRE, at 216-707-2585 or email her at dstrachan@clevelandart.org. During this low interest environment, a charitable gift annuity may be very attractive and tax favorable.
Back
© Pentera, Inc. Planned giving content. All rights reserved.