Donor Testimonials
Art and Music Lover Don Morrison Makes Gift with Creative Strategy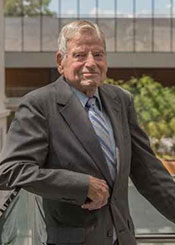 "I invest in the Cleveland Museum of Art because I love art and it is a well-run organization that uses its assets well," says Don Morrison of Chagrin Falls. Don traces his passion for the museum to 1983 when he and his wife visited often, taking in the art and the atmosphere of University Circle. Longtime donor to the Cleveland Orchestra as well, Don is a member of the Musart Society—a friends group that supports the museum's performing arts program. Don has also been a President's Circle member since 2001 and a member of the distinguished Legacy Society since 2011.
A savvy donor, Don shares that his philanthropic choices have largely been influenced by his decades of experience as an executive with the Bell Operating System. Don notes that as his relationship and engagement with the Cleveland Museum of Art deepened, he began to apply these same business principles as he weighed a variety of gift vehicles.
Don was certain that he wanted to include the museum in his estate plan in a significant way, so in 2011 he revealed to the gift planning staff of the museum that he had made the Cleveland Museum of Art a beneficiary of his individual retirement account. "I didn't know what I was going to need during my lifetime," Don shares, "so utilizing my IRA to fund my estate commitment to the museum was easy. It's flexible because it can be changed and it didn't require an attorney, meaning no fees to implement my plan."
Like the museum's founders Hinman Hurlbut, Horace Kelley, John Huntington, and J. H. Wade, all of whom made investments of either land, art, or capital, donors like Don are the foundation of the museum's future. The commitments of Legacy donors ensure the core mission of the museum to remain "for the benefit of all the people forever."
Back
© Pentera, Inc. Planned giving content. All rights reserved.