Donor Testimonials
Elaine Green Looks Back to Discover an Inspiration for Giving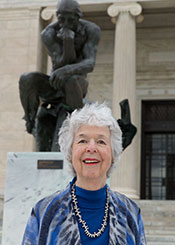 Some of Elaine Harris Green's earliest memories are her experiences at the Cleveland Museum of Art.
Elaine shared with us her father's silent home video from 1937, and to watch it is to be transported back in time. The family steps out of their car onto the marble walkway of the museum's south terrace. Elaine and her sister Judy are giddy with excitement and run around Rodin's The Thinker, then fully intact. "My sister and I were playing on the front steps at the south entrance," she recalls. "It was very cold, but we were so excited to be at the museum."
That day was one of so many days she and her family spent at the museum. "When I watch this video, I am reminded of how important the museum was to me and my family throughout our lives. It's why I decided to make a gift," she says. "The best part was that giving to the museum was so simple. I met with Diane [the museum's director of development] and she walked me through the process step by step.
"I was always surrounded by art and artists," Elaine continues. "It was an important part of my upbringing. My father was a chemical engineer and athlete and always interested in modern art and woodworking." Indeed, Elaine's mother and father were members of the Kokoon Club, an avant-garde Cleveland-area artists group that organized workshops, salons, and clandestine masquerade parties.
"My parents enrolled in a sculpture course at the museum when I was a child," she remembers. "The instructor encouraged them to bring me to one of the classes, and so I was part of the lesson that evening." Later, Elaine enrolled in several classes as well.
As an adult Elaine became an elementary school teacher and frequently incorporated art history into her lesson plans. "I brought my students to the Cleveland Museum of Art each year," she says.
Elaine has continued to create art and immerse herself in Cleveland's art community. She maintained her own artistic practice while she was working and throughout her retirement. For fifteen years she had a studio at the Shore Cultural Centre, where she developed wildly colorful abstract paintings. Her first show was at the Shaker Heights Library.
"I've donated many of my pieces to local charities," she says. "Giving back has always been important to my family. It's why I decided to include the museum in my estate plan. I want our museum to endure for centuries to come!"
Elaine is a graduate of Case Western Reserve University. She began her master's degree at Teachers College at Columbia University and completed it at Case Western Reserve University.
Back
© Pentera, Inc. Planned giving content. All rights reserved.