Donor Testimonials
Legacy Society Member Spotlight:
Jeromes Make a Gift by Bequest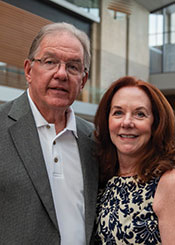 Cheryl and David Jerome both grew up in Northeastern Ohio and have been involved with the CMA since the 1990s. "Over the years we both started attending more lectures and programs by the curators and staff, which enabled us to expand our knowledge of and appreciation for art," Cheryl says. "It has broadened our understanding of art and art history. After lengthy careers in business, we wanted to do something different when we retired to expand our minds—specifically to learn about and appreciate art."
To ensure that their support of the CMA continues beyond their lifetimes, the Jeromes have made a bequest in their will "to support the long-term vitality of the museum. We believe that it is important to support organizations that contribute to the quality of life in Northeastern Ohio," David says. "The Cleveland Museum of Art is clearly one of those leading organizations."
Cheryl and David also enjoy attending special benefits. "The first one we attended was the 'A Night of Knights' in 1996," Cheryl recalls. "Although a sudden storm damaged the outdoor dining area, dinner was turned into hors d'oeuvres followed by dancing in the Armor Court. The 2016 Centennial Gala was a glorious benefit. Finally, we thoroughly enjoy all the special exhibitions. We have attended so many of them over the past 20 years."
In 2011 Cheryl joined the Womens Council and took part in the orientation program, which included four full days of tours of the galleries with curators, presentations by museum leadership, and a tour of the Conservation Lab. "After orientation I began volunteering in the Museum Store," Cheryl says. "Then I was invited to join the Womens Council board. The following year, I was asked to assume the role of the standing chair of Volunteer Committees." She served as vice chair in 2015, chair in 2017, and nominating chair in 2019. This fall she will begin her role as chair of the Leadership Circle Committee of the museum.
Cheryl and David encourage others to think about the legacies they could leave to support the future of the Cleveland Museum of Art. "Make sure you let the organization know if you decide to include it in your will," Cheryl says. "We hesitated at first not knowing if our financial circumstances would change over the years but overcame that hesitation when we learned it might inspire others to consider making a bequest. We signed a simple form to document our intention and became members of the Legacy Society."
Back
© Pentera, Inc. Planned giving content. All rights reserved.